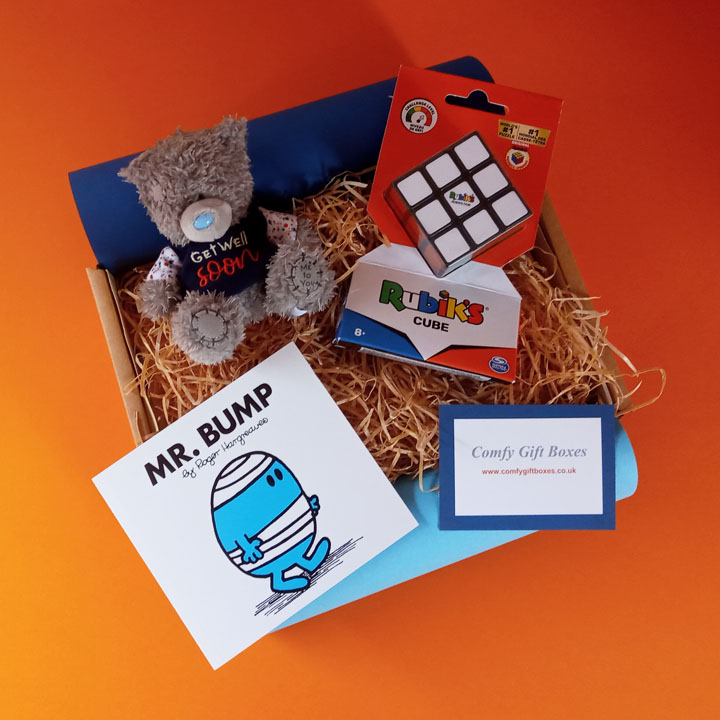 Get Well Soon Accident Gift
£29.99 plus delivery
In stock ready to be packed and wrapped
Same day despatch if ordered before 12 noon
Get Well Soon Accident Gift
£29.99
Our Get Well Soon Accident Gift includes:
Mr Bump Mug and Gift Box
Original Rubik's® Cube world famous puzzle
Mr Bump Book (Mr Men Classic Library)
This fun get well gift is a great present to send somone to put a smile on their face and cheer them up if they have a bump in their car or have been in an accident and are recovering either in hospital or at home. This get well gift is ideal to send to friends and young family members but is a popular present to send to colleagues who are having to take a bit of time off work due to illness or injury to show you are thinking of them.
Free gift wrapping and gift card
This get well soon accident gift is presented in a black gift box with matching lid, this is lined with tissue paper, wrapped with green ribbon and then finished with a green bow.
See all Comfy Gift Boxes or you might also be interested in these gifts:
Whether you are looking for a get well gift for young boys or girls, a gift to entertain teenage children in hospital or something for adults to pass the time while recovering at home, we have plenty of presents to choose from both in our get well soon gift selection and within all our full Comfy Gift Boxes range.
UK DELIVERY

Your gift will be delivered
in 2 - 3 working days
FREE WRAPPING & GIFT CARD
All Comfy Gift Boxes are carefully gift wrapped for you, then securely packaged ready to be delivered with a gift card personalised with your own message.
PAY SECURELY