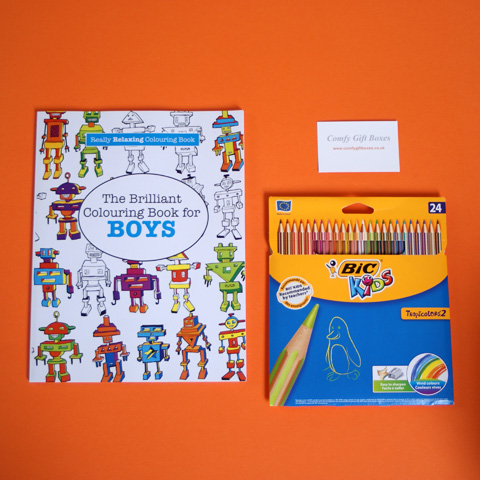 Get Well Colouring Gift For Boys
£12.99 plus delivery
In stock ready to be packed and wrapped
Same day despatch if ordered before 12 noon
Get Well Colouring Gift For Boys
£12.99
Our Get Well Colouring Gift For Boys includes:
The Brilliant Colouring Book for Boys
BiC® Kids Tropicolors Colouring Pencils -
Pack of 24 wood-free resin colouring pencils, lead is easy to sharpen
Most little boys like something to do and to keep busy. When they are feeling under the weather life gets a bit dull. Cheer them up and send this colouring get well soon gift to keep them entertained and pass the time while they recuperate and recover. It's not just for poorly boys, young children firing on all cylinders enjoy receiving this activity gift as well.
Free gift wrapping and gift card
This colouring gift for younger boys is packed in cellophane, it is then wrapped with some bright blue ribbon and the gift card, personalised with your get well soon message, is neatly tucked underneath.
UK DELIVERY

Your gift will be delivered
in 2 - 3 working days
FREE WRAPPING & GIFT CARD
All Comfy Gift Boxes are carefully gift wrapped for you, then securely packaged ready to be delivered with a gift card personalised with your own message.
PAY SECURELY