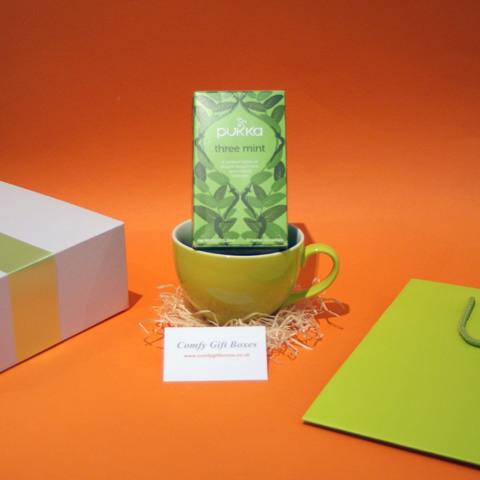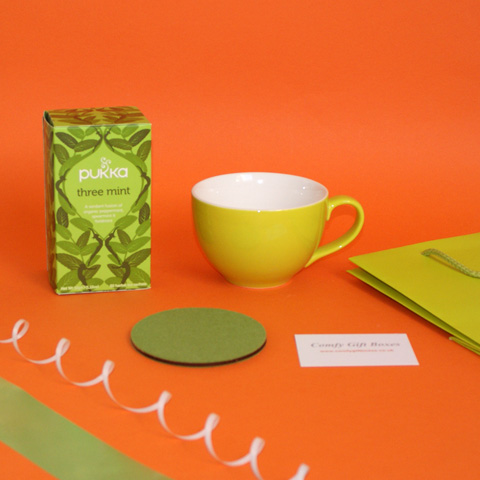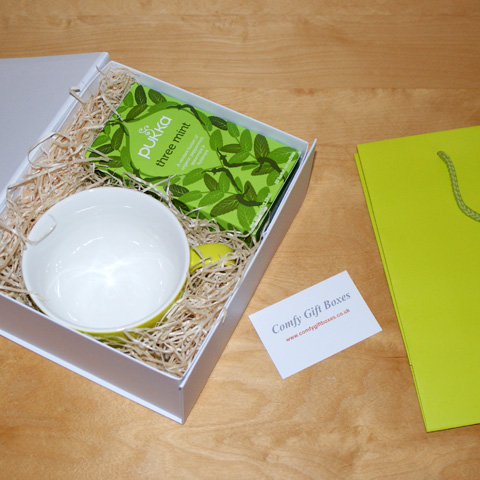 Feel Better Mint Tea Gift
£14.99 plus delivery
In stock ready to be packed and wrapped
Same day despatch if ordered before 12 noon
Feel Better Mint Tea Gift
£14.99
Our Feel Better Mint Tea Gift includes:
Pukka Refreshing Three Mint Tea - 20 herbal tea sachets

Organic peppermint, spearmint and fieldmint

Green China Tea Cup 420ml
Green Felt Covered Wooden Coaster
Pure White Gift Box with Magnetic Lid
Mint is a calming herb often used to aid nausea and headaches or an upset stomach and indigestion. Mint also cools and soothes so is often used to give relief from respiratory disorders so this get well present is a fine small gift for a friend, relative or work colleague with a common cold, flu or feeling under the weather.
Free gift wrapping and gift card
This small refreshing get well gift is presented in a pure white gift box with a magnetic lid closure, this is lined with protective shredded paper then the Pukka mint tea, china tea cup and matching coaster are carefully added. The box is wrapped with green ribbon with our gift card is tucked underneath then it's packed into a green gift bag.
See all Comfy Gift Boxes or you might also be interested in these gifts:
Our get well soon gifts also make great pamper presents for friends and family. Below are some of our other get well gift ideas and a selection from our pamper gift range to cheer some one up, raise a smile and make them feel better.
UK DELIVERY

Your gift will be delivered
in 2 - 3 working days
FREE WRAPPING & GIFT CARD
All Comfy Gift Boxes are carefully gift wrapped for you, then securely packaged ready to be delivered with a gift card personalised with your own message.
PAY SECURELY