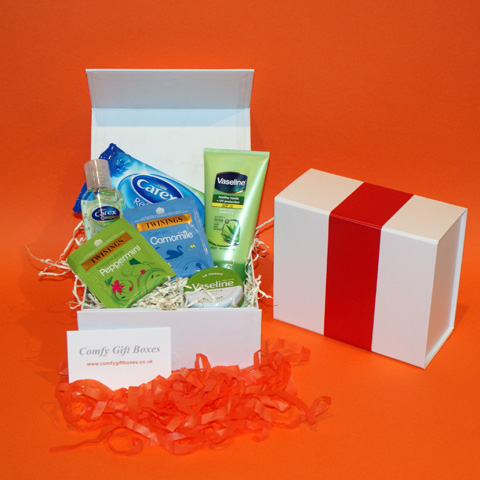 Get Well Soon Emergency Gift Box
£14.99 plus delivery
In stock ready to be packed and wrapped
Same day despatch if ordered before 12 noon
Get Well Soon Emergency Gift Box
£14.99
Our Get Well Soon Emergency Gift Box includes:
Vaseline® Pure Aloe Vera Moisturising Hand Cream 75ml
Vaseline® Aloe Vera Lip Therapy
Twinnings Calming Camomile & Invigorating Peppermint Tea Bags
Cussons Carex Refreshing Soft Cleansing Wipes for Hands, Face and Body
Cussons Carex Complete Aloe Vera Refreshing Hand Gel 50ml
When someone is in hospital or feeling under the weather at home they may just need a little bit of tlc. This small get well gift box has Aloe Vera moisturising hand cream, wipes and lip balm to soothe dry hands and chapped lips, the hand gel will help to prevent germs spreading and who doesn't feel better after a refreshing cup of camomile or peppermint tea.
Free gift wrapping and gift card
This get well soon gift is presented in a small white gift box with a magnetic lid, this is lined with tissue paper then wrapped with bright red ribbon.
See all Comfy Gift Boxes or you might also be interested in these gifts:
We have other get well gift ideas to send to family and friends who are unwell at home or in hospital. We also offer a selection of get well soon gifts for children which some customers like to send as a get well presents for colleagues at work or friends to make them laugh and cheer them up.
UK DELIVERY

Your gift will be delivered
in 2 - 3 working days
FREE WRAPPING & GIFT CARD
All Comfy Gift Boxes are carefully gift wrapped for you, then securely packaged ready to be delivered with a gift card personalised with your own message.
PAY SECURELY