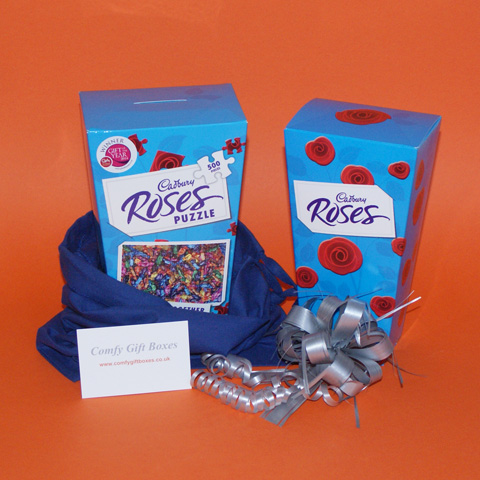 Jigsaw and Cadbury Roses Get Well Gift
£22.99 plus delivery
In stock ready to be packed and wrapped
Same day despatch if ordered before 12 noon
Jigsaw and Cadbury Roses Get Well Gift
£22.99
Our Jigsaw and Cadbury Roses Get Well Gift includes:
Cadbury Roses Chocolates Jigsaw Puzzle
(500 pieces, 500mm x 350mm)
Cadbury Roses Chocolates 321g
Recovering from an operation, illness or an accident can be frustrating and very boring. This jigsaw get well soon gift will help to pass the time and relieve the bordom of being stuck in a hospital bed or confined to the sofa at home. As well as a gift for patients it can also be sent as a Birthday present, a thank you gift or for any other reason you can think of.
Free gift wrapping and gift card
This get well present is an ideal get well gift idea for a patient's recovery stage to pass the time and relieve the bordom either in hospital or at home, it is presented in a royal blue cotton drawstring bag.
See all Comfy Gift Boxes or you might also be interested in these gifts:
Our get well soon gift ideas can also be sent as Birthday gifts or as presents for special occasions, while our pampering presents are often sent as a get well soon gift. Examples of some get well gifts and pampering presents are shown below.
UK DELIVERY

Your gift will be delivered
in 2 - 3 working days
FREE WRAPPING & GIFT CARD
All Comfy Gift Boxes are carefully gift wrapped for you, then securely packaged ready to be delivered with a gift card personalised with your own message.
PAY SECURELY