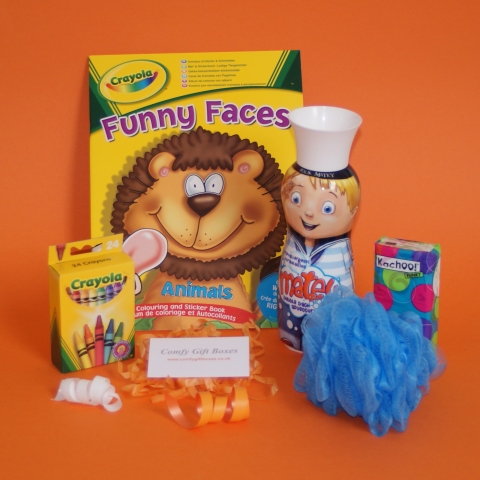 Get Well Soon Children's Gift for Boys
£16.99 plus delivery
In stock ready to be packed and wrapped
Same day despatch if ordered before 12 noon
Get Well Soon Children's Gift for Boys
£16.99
Our Get Well Soon Children's Gift for Boys includes:
Crayola® Funny Faces Colouring and Sticker Book
Crayola® Crayons, 24 colours
Matey Bubble Bath, up to 30 baths
Blue Body Polisher
Handy Size Pocket Tissues
Cheer up a little boy who has been unwell, is stuck in hospital or is poorly in bed at home by sending this activity get well soon present. The colouring and sticker book will help to pass the time and relieve the bordom of not being able to play outside and the bubble bath will add a bit of fun to bath time.
Free gift wrapping and gift card
This get well soon children's gift for boys is presented in a smart reusable gift box with a matching lid, this is lined with tissue paper and wrapped with ribbon.
UK DELIVERY

Your gift will be delivered
in 2 - 3 working days
FREE WRAPPING & GIFT CARD
All Comfy Gift Boxes are carefully gift wrapped for you, then securely packaged ready to be delivered with a gift card personalised with your own message.
PAY SECURELY