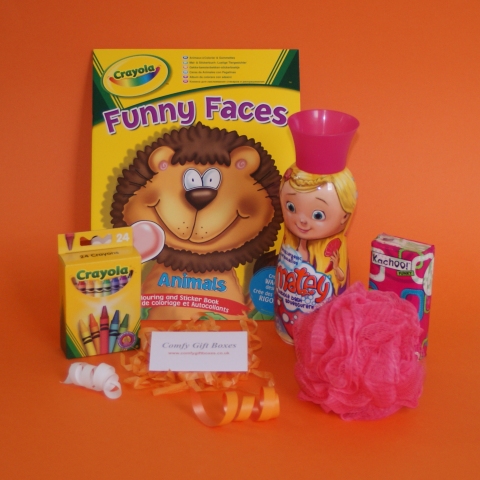 Get Well Soon Children's Gift for Girls
£16.99 plus delivery
In stock ready to be packed and wrapped
Same day despatch if ordered before 12 noon
Get Well Soon Children's Gift for Girls
£16.99
Our Get Well Soon Children's Gift for Girls includes:
Crayola® Funny Faces Colouring and Sticker Book
Crayola® Crayons, 24 colours
Matey Bubble Bath, up to 30 baths
Pink Body Polisher
Handy Size Pocket Tissues
Being ill isn't fun for anyone especially if you have to stay in hospital or are confined to bed at home missing out on school and playing with friends. Send her your best wishes for a speedy recovery and show her you're thinking of her with this fun get well soon gift especially for little girls.
Free gift wrapping and gift card
This get well soon children's gift for girls is presented in a gift box that can be used again, maybe to store some of those bits and pieces little girls seem to accumulate! The box also has a matching lid, is lined with tissue paper and then to finished it's wrapped with ribbon with a personalised gift card tucked underneath.
See all Comfy Gift Boxes or you might also be interested in these gifts:
We have some more children's get well soon gifts to choose from shown below. As well as for younger kids they also make fun presents to send to poorly grown ups to make them laugh. If you're looking for gifts for teenage girls we have some pampering gifts that might cheer them up, smile and feel better.
UK DELIVERY

Your gift will be delivered
in 2 - 3 working days
FREE WRAPPING & GIFT CARD
All Comfy Gift Boxes are carefully gift wrapped for you, then securely packaged ready to be delivered with a gift card personalised with your own message.
PAY SECURELY