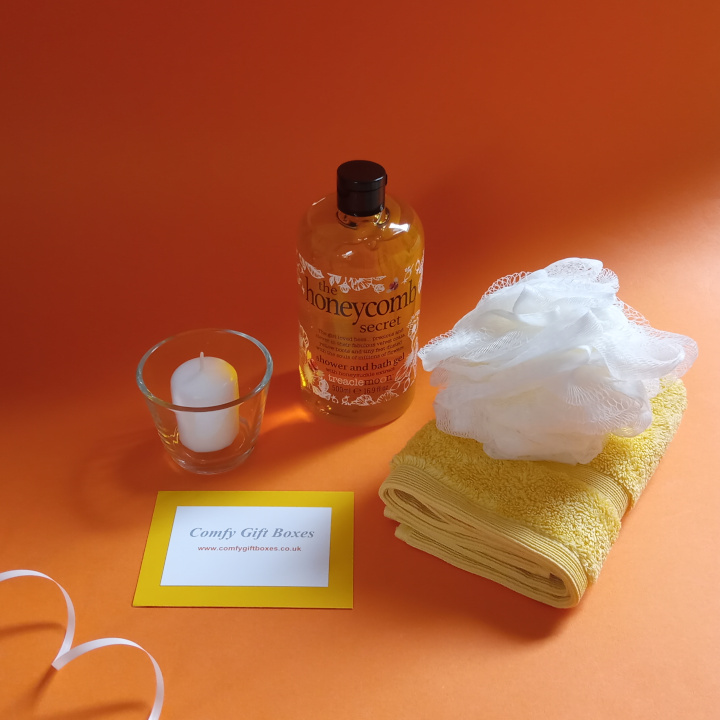 Honeycomb Bath & Shower Pamper Gift
£18.99 plus delivery
In stock ready to be packed and wrapped
Same day despatch if ordered before 12 noon
Honeycomb Bath & Shower Pamper Gift
£18.99
Our Honeycomb Bath & Shower Pamper Gift includes:
Treaclemoon™ The Honeycomb Secret Bath and Shower Gel 500ml
Ivory Body Polisher
100% Cotton Ivory Face Cloth
Scented Candle
Glass Candle Holder
Infused with honey extract, receiving this bright little honeycomb bath and shower pamper gift is sure to make someone feel good and smile. The honeycomb gel can be massaged straight onto skin with the body polisher under a morning shower or added to a bath to enjoy a soothing, candle lit evening soak.
Free gift wrapping and gift card
The bath and shower pamper gift is presented in a cream gift box with magnetic lid, it is lined with yellow tissue paper before the pampering contents are added then the gift box is wrapped with bright yellow ribbon and finished with a yellow bow.
UK DELIVERY

Your gift will be delivered
in 2 - 3 working days
FREE WRAPPING & GIFT CARD
All Comfy Gift Boxes are carefully gift wrapped for you, then securely packaged ready to be delivered with a gift card personalised with your own message.
PAY SECURELY