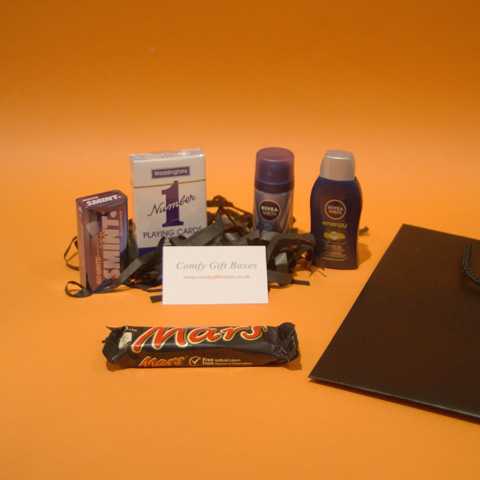 Get Well Emergency Gift Bag
£10.99 plus delivery
In stock ready to be packed and wrapped
Same day despatch if ordered before 12 noon
Get Well Soon Emergency Gift Bag
£10.99
Our Get Well Emergency Gift Bag includes:
Waddingtons Number 1 Playing Cards
Nivea for Men® Cool Kick Ant-Perspirant 35ml
Nivea for Men® Energy Body, Face and Hair Shower Gel 50ml
Smint® XXL Peppermint Sugarfree Mints
Mars® Bar 51g
If you need a small get well gift for men in hospital or somone who is recuperating at home then this get soon well gift bag might be what you are looking for. Anti-perspirant and shower gel covers the hygiene side, a chunky bar of chocolate for the hunger, mints for the breath and a pack of playing cards to help pass the time. All neatly packed in a handy black gift bag.
Free gift wrapping and gift card
A great idea to send men in hospital, this get well soon gift is presented in a black gift bag with matching black rope handles and lined with orange tissue paper.
UK DELIVERY

Your gift will be delivered
in 2 - 3 working days
FREE WRAPPING & GIFT CARD
All Comfy Gift Boxes are carefully gift wrapped for you, then securely packaged ready to be delivered with a gift card personalised with your own message.
PAY SECURELY