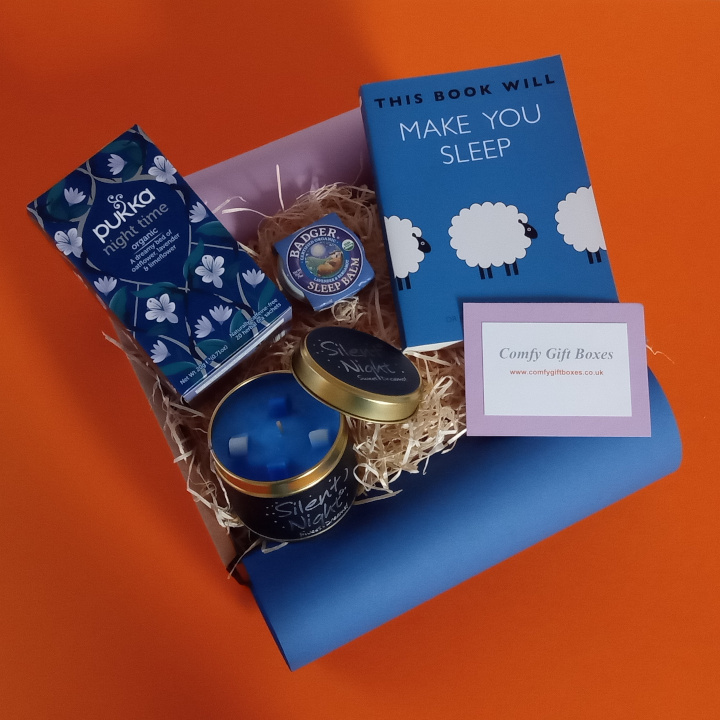 Good Night's Sleep Gift Hamper
£32.99 plus delivery
In stock ready to be packed and wrapped
Same day despatch if ordered before 12 noon
Good Night's Sleep Gift Hamper
£32.99
Our Good Night's Sleep Gift Hamper includes:
Lily-Flame Silent Night Sweet Dreams Scented Candle
Pukka Night Time Herbal Tea 20 sachets
This Book Will Make You Sleep by Jessamy Hibberd
Badger Balm Sleep Balm 21g
If someone you know is tired, has just run out of steam or perhaps they've been travelling or working especially hard then a good night's sleep could be the answer. This get well soon hamper is full of tricks and treats to help get a good night's rest, recharge those batteries and aid a speedy recovery.
Free gift wrapping and gift card
This night time get well soon hamper to help get a good night's sleep is presented in a violet gift hamper tray, this is wrapped in cellophane, tied with ribbon and finished with a hand tied ivory satin bow.
UK DELIVERY

Your gift will be delivered
in 2 - 3 working days
FREE WRAPPING & GIFT CARD
All Comfy Gift Boxes are carefully gift wrapped for you, then securely packaged ready to be delivered with a gift card personalised with your own message.
PAY SECURELY