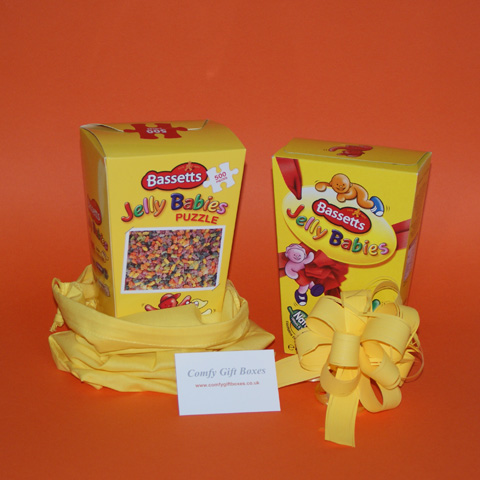 Jigsaw and Jelly Babies Get Well Gift
£22.99 plus delivery
In stock ready to be packed and wrapped
Same day despatch if ordered before 12 noon
Jigsaw and Jelly Babies Get Well Gift
£22.99
Our Jigsaw and Jelly Babies Get Well Gift includes:
Bassetts Jelly Babies Jigsaw Puzzle
(500 pieces, 500mm x 350mm)
Bassetts Jelly Babies 460g
As well as entertaining, jigsaw puzzles are well known to work the part of the brain responsible for learning and memory so that's no bad thing. They are also a great way to pass the time when recovering from illness or an injury which may confine someone to bed or indoors. Of course the Jelly Babies help too!
Free gift wrapping and gift card
This get well recovery present for children or adults in hospital or for friends and family recuperating at home, is presented in a bright yellow cotton drawstring bag.
UK DELIVERY

Your gift will be delivered
in 2 - 3 working days
FREE WRAPPING & GIFT CARD
All Comfy Gift Boxes are carefully gift wrapped for you, then securely packaged ready to be delivered with a gift card personalised with your own message.
PAY SECURELY