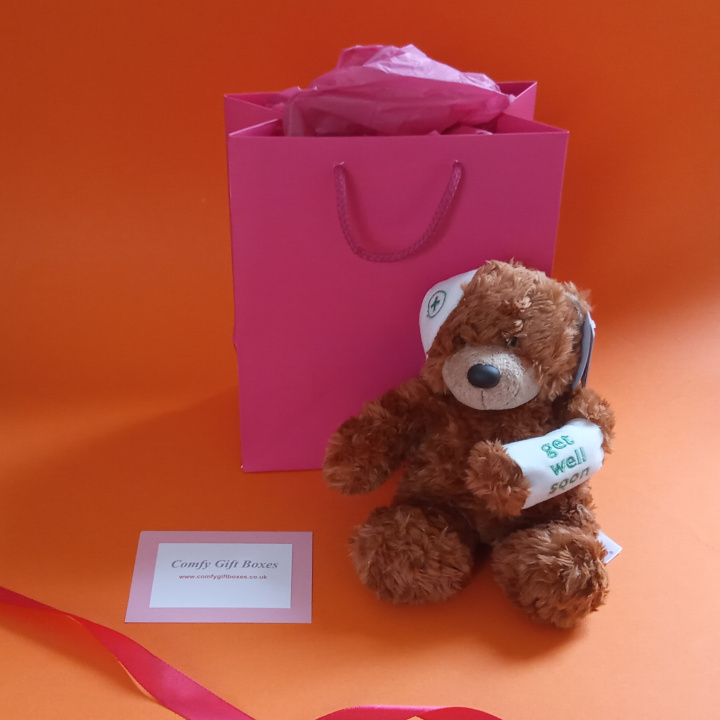 Teddy Bear Get Well Pink Gift Bag
£18.99 plus delivery
In stock ready to be packed and wrapped
Same day despatch if ordered before 12 noon
Teddy Bear Get Well Pink Gift Bag
£18.99
Our Teddy Bear Get Well Pink Gift Bag includes:
Soft and Cuddly Teddy Bear with a bandaged arm and head
Send this cute get well teddy bear gift to look after someone who is unwell or just needs a little bit of TLC. Wearing a bandage embroidered with a 'get well soon' message, this soft and cuddly bear is sure to make someone feel much better.
Free gift wrapping and gift card
This get well soon teddy bear is snuggled in a bright pink gift bag with matching rope handles and pink tissue paper.
UK DELIVERY

Your gift will be delivered
in 2 - 3 working days
FREE WRAPPING & GIFT CARD
All Comfy Gift Boxes are carefully gift wrapped for you, then securely packaged ready to be delivered with a gift card personalised with your own message.
PAY SECURELY